Make your chicken wings extra tasty with this maple whiskey and chilli glaze.
Glazed Chicken Wings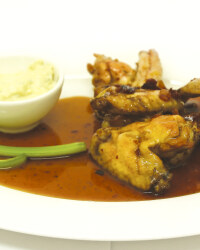 Recipe Information
Ingredients
For the wings
20 Chicken Wings
150ml Maple Syrup
1 tsp Dried Chilli Flakes
250ml Irish Whiskey
600ml Water
125g Brown Sugar
Salt and Pepper
For the Blue Cheese Mayo
150ml Mayonnaise
60g Blue Cheese
½ head of Celery, peeled, washed and cut into batons
Method
Pre-heat the oven to 160°C/140°C Fan/Gas Mark 3.
In a bowl mix together the maple syrup, water and whiskey.
Add the chicken wings to a large, deep oven-ready tray. Season with salt and pepper then add the sugar and mix well.
Now mix in the chilli flakes and then add the whiskey mix to the tray coating the chicken wings.
Add to the pre-heated oven and braise for 1 and a half hours or until the meat is falling from the bone.
Remove from the oven, allow to cool a little and then remove the chicken wings from the tray and set aside. Strain the liquid into a saucepan. Put over a medium to high heat and reduce to a sticky sauce as quickly as possible (approx. 10 minutes).
Meanwhile, mix the mayo with the blue cheese to make a blue cheese dip.
When ready to serve, toss the wings in the sticky sauce and serve with the blue cheese dip and celery sticks.