Bacon, eggs and sausages all combine for this delicious twist on a full English breakfast.
Full English Scotch Eggs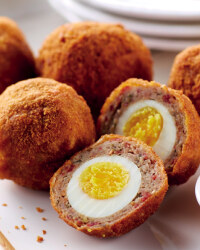 Recipe Information
Ingredients
1 pack Lincolnshire sausages
8 Medium eggs
8 rashers Smoked steaky bacon.
6 slices White bread
60g Cornflakes
3 tbsp Plain flour
Oil for frying
Method
First of all boil 8 eggs - drop gently into a pan of rapidly boiling water - and boil for 5 minutes.
Remove eggs from heat and run under cold tap until completely cooled - place in fridge until later.
Cook the streaky bacon until crispy - cool.
Cut the crusts of the bread, and blend into breadcrumbs and put in a large bowl.
Blend the cornflakes into a fine crumb and mix well with the breadcrumbs.
Remove the skins from the sausages and squeeze all the meat into a bowl, blend the crispy bacon into a fine crumb and mix well with the sausage meat.
Time to assemble:
Carefully peel the eggs.
Divide the meat mix into 8 and wrap each egg evenly in the meat ensuring the egg is fully enrobed in meat.
Roll each egg in flour.
Beat the remaining one egg in a bowl, drop 1 egg into the egg mix and coat then roll into the breadcrumbs until evenly coated, Repeat until all the eggs are coated.
Heat a deep fryer to 160 degrees.
Fry for 5 minutes for a runny centre Or 8 minutes for cooked through.
Enjoy hot or cold!