Enjoy this healthy snack taken from RTE's Operation Transformation
Fruit Cup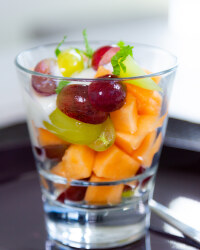 Recipe Information
Ingredients
120g Melon (any variety)
120g Grapes
Juice of 1 Lime
80g Natural Yoghurt (3% Fat)
3-4 Fresh Mint Leaves (to taste)
Method
Remove the seeds from the melon with a teaspoon.
Using a sharp knife mark the flesh into small cubes, then carefully cut off the skin into a bowl.
Cut each grape in half and add them with the lime juice, gently mixing to combine.
If eating at home, spoon into a glass serving dish and add the yoghurt, then tear over enough of the mint leaves to your taste before serving.
If eating away from home, bring the prepared melon and grapes in an airtight container with the mint leaves sitting on top and a lime already halved to squeeze over before serving. Put the yoghurt in a little pot tucked inside.