A simple recipe to create the perfect starter.
Fried Prawn & Mozzarella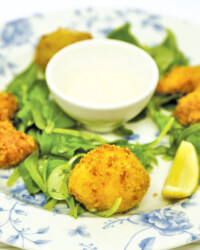 Recipe Information
Ingredients
12 Uncooked King Prawns
2 balls of Buffalo Mozzarella, cut into 12 pieces
Salt and Pepper to taste
2 Lemons, juiced
6 Eggs
250ml Milk
500g Breadcrumbs
500g Flour
Vegetable Oil for frying
1 bag Mixed Leaf Lettuce
Olive Oil
Juice of 1 Lemon
Juice of 1 Lime
Method
Arrange 3 shallow bowls or deep plates. In one bowl mix the eggs and milk, put the flour in another bowl and then the breadcrumbs in the last bowl. Pass the mozzarella pieces through the bowl of flour, then the egg wash and then breadcrumbs.
Repeat the process with the prawns.
Heat the vegetable oil in a deep heavy-bottomed saucepan until a breadcrumb sizzles and browns when dropped in it. (CAUTION: hot oil can be dangerous – do not leave unattended.)
Carefully add the breaded prawns and mozzarella to the hot oil and fry until golden-brown.
Remove with a slotted spoon and drain on kitchen paper.
To serve, add lettuce to a bowl and mix with salt and pepper, olive oil, lemon and lime juice and combine. Put a handful of dressed lettuce on each plate and then place 3 prawns and 3 chunks of golden mozzarella on top.