These deliciously warming spuds are a simple yet tasty dinner idea.
French Salt-Baked Jersey Royal Potatoes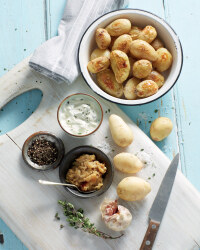 Recipe Information
Ingredients
450g Potatoes
250g Sea Salt
40ml Olive Oil
40ml Water
4 x Garlic Bulbs
3 x Sprigs Fresh Thyme or 1 tsp Dried Thyme
250ml Crème Fraîche
Method
Pre-heat the oven to 180°C/350°F/Gas Mark 4.
Place the garlic bulbs onto a large sheet of tin foil.
Wrap the edges of the foil around them.
Top with the thyme and drizzle over the olive oil and water.
Scrunch up the foil to make a parcel and put in the oven to bake for 40 minutes.
Meanwhile, put the potatoes into a small roasting dish – so they are a tight fit.
Sprinkle over the sea salt – to form a crust.
Bake in the oven for 35 minutes – until tender when spiked with the tip of a knife.
Brush off the salt and put into a warmed bowl.
Take the garlic from the oven and remove from the tin foil.
Serve the garlic bulbs alongside the potatoes – eat by squeezing out the soft garlic from the cloves.
Serve the crème fraîche in a separate bowl alongside the potatoes and garlic.