A quick tasty side dish packed with flavour using potatoes coated in garlic and herbs.
Fondant Potatoes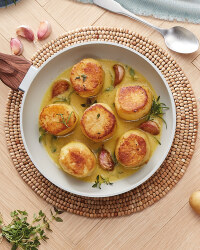 Recipe Information
Ingredients
6 medium Maris Piper Potatoes
25ml Olive Oil
200g Unsalted Butter
4 Garlic Cloves, slightly bashed
2 Sprigs of Rosemary
2 Sprigs of Thyme
200ml Vegetable Stock
Sea Salt and Black Pepper
Method
Peel the potatoes and cut the ends off so they lay flat on either side.
Heat the oil in a large frying pan and fry the potatoes cut side down for 5/7 mins each side until golden brown.
Add the butter to the pan until it melts and then add in the garlic, rosemary and thyme and season well.
Pour in the vegetable stock and cover. Allow to simmer gently for 25/30 mins until tender and make sure to turn once during this period.