A baking favourite. Try these glorious gluten free flapjacks.
Flapjacks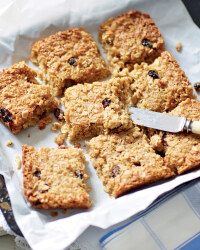 Recipe Information
Ingredients
215g Gluten Free Porridge Oats
100g Demerara Sugar
50g Sultanas
160g Butter
1 heaped dsp – about 55g Golden Syrup
1 x 20cm shallow square cake tin
Method
Pre-heat the oven to 180°C/350°F/Gas Mark 4.
Melt the butter in a medium size saucepan.
Add the sugar, sultanas and the golden syrup and cook on a low light until the sugar has melted.
Turn off the heat, pour in the porridge oats and mix well.
Pour the mixture into the cake tin and flatten down with the back of a spoon.
Bake in the oven for 20 minutes until just browned.
Cut into 9 squares – the mixture will still be soft, but will harden when baked.
Once cool, turn out the squares onto a plate.