Tasty, tangy Finger Lickin' BBQ Chicken.
Finger Lickin' BBQ Chicken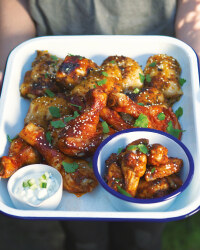 Recipe Information
Ingredients
Pack of Chicken Thighs
Pack of Chicken Wings
Pack of Chicken Drumsticks
Olive Oil
Sesame Seeds, toasted
Fresh Coriander
2 Fresh Limes
A tub of Coleslaw
BBQ Sauce
Method
Remove the chicken from its packaging and place on a plate.
Cover with tin foil and let it stand for 30 minutes to allow it to come to room temperature.
Heat the BBQ grill to a high heat.
Brush the chicken drumsticks, thighs and wings with a little extra olive oil.
Place the thighs and drumsticks in the centre of the grill and cook for 25 to 30 minutes, using tongs to turn regularly.
Place the wings around the thighs and drumsticks, on a slightly cooler part of the grill, and let them cook for 20 to 25 minutes, turning regularly.
When the chicken has cooked through, remove from the grill and allow to rest for 5 minutes before serving.
Meanwhile, chop the coriander leaves and cut the lime into segments.
Serve the BBQ chicken with a sprinkling of sesame seeds, a scatter of fresh coriander leaves, some lime segments on the side for squeezing, a bowl of our Specially Selected coleslaw for extra crunch, and some BBQ sauce for dunking.