An amazingly tasty meal, perfect for an indulgent night in.
Fillet of Beef with Garlic Potatoes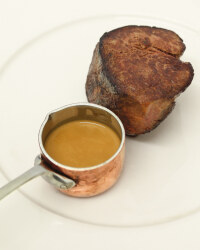 Recipe Information
Ingredients
4 x Fillet Steaks
1 tsp. Rapeseed Oil or Olive Oil
For the Garlic Potatoes
8 Rooster Potatoes
600ml Cream
300ml Milk
4 Garlic Cloves, peeled
Fresh Thyme
½ tsp. ground nutmeg
200g Mature Cheddar Cheese, grated
For the Peppercorn Sauce
20 Whole Black Peppercorns, crushed
100ml Brandy
Worcestershire Sauce
100ml Cream
1 Beef Stock Cube
For the Mixed Greens
1 pack Tender Stem Broccoli
1 pack Extra Fine Green Beans
1 bag Baby Spinach
2 tsp. Butter
Method
Preheat the oven to 160°C/Fan 325°C/Gas Mark 3.
First prepare the garlic potatoes. In a saucepan add the milk, cream, thyme, garlic and nutmeg in and heat to scalding. Set aside.
Line a suitable oven dish with parchment paper.
Peel and thinly slice the potatoes.
Place the potatoes in the dish in layers, seasoning with salt and pepper as you build the layers.
Pour over the heated milk and cream mixture and cover with tin foil.
Put in your pre-heated oven for 40 minutes.
Meanwhile, prepare your steaks by brushing them with oil and seasoning with salt and pepper. Set aside to come to room temperature before cooking.
For the sauce, place the peppercorns in a saucepan, add the brandy and carefully set alight to burn off the alcohol. Reduce the brandy by half. Then add the Worcestershire sauce, cream and crumble in the stock cube. Whisk to combine. Allow to reduce again until the sauce has thickened. Keep in a warm place until you are ready to serve.
Remove potatoes from the oven, carefully take off the foil and sprinkle with grated cheese.
When you are almost ready to serve dinner, place the potatoes under a hot grill for a few minutes to melt the cheese until golden.
To cook the beef, put a grill pan on to heat. Cook the steaks on all sides, and then continue to cook on the pan until desired doneness, 2-6 minutes on each side depending on how well you like your steak cooked. Let the steak rest for half the amount of time you cooked it before serving, to allow the juices that have been drawn to the surface to relax back into the meat.
For the greens, steam for 2 minutes or until cooked. In a separate pan, add your butter and sauté the steamed veg for about 30 seconds. Season to taste.
Serve your steak with the pepper sauce, steamed greens and garlic potatoes.