Suculent Chicken Skewers with a tasy peanut dipping Sauce.
Easy Chicken Kebabs with Peanut Dipping Sauce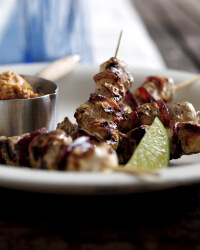 Recipe Information
Ingredients
4 tbsp Natural Yogurt
2 Chicken Breast Fillets, cut into roughly 35-40 small pieces, skin off
2 Red Onions, peeled and cut into small pieces
8-10 tbsp Water
uice of 1 fresh Lime
Salt Coarse Ground Black Pepper
Method
Place 4 tbsp yogurt onto the chicken and leave for 15 minutes.
Cut the onion into smallish pieces and place into a saucepan.
Cover with water and bring to the boil, then drain well.
Thread the chicken onto skewers, interweaving with the cooled onions, then chill well.
Place the peanut butter, water and lime into a small saucepan and gently heat until you have a sauce consistency, then keep warm.
Gently grill the kebabs on the BBQ (lightly oil the bars first) seasoning with salt and coarse ground black pepper.
Cook for 8-10 minutes on each side and serve hot with the dipping sauce separately.
Tips
Leaving the chicken to marinate longer will make the texture of the chicken even softer.
These can be cooked in a normal frying or griddle pan.
As an alternative, why not try this with pork chops.
Pre-boiling the onion first softens and makes it not only quicker to cook, but also nicer to eat.
If using wooden skewers, soak in cold water for 20 minutes first, to prevent burning.