Leftover Easter chocolate? Not anymore. Try this delicious Easter egg cheesecake topped with mini eggs, marshmallows and berries.
Easter Egg Cheesecake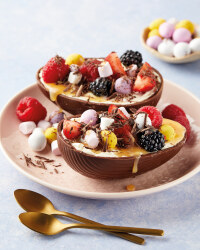 Recipe Information
Ingredients
1 Leftover Easter Egg
2 Digestive Biscuits
150g Full Fat Soft Cheese
75ml Double Cream
30g Icing Sugar
½ tsp. Vanilla Extract
Toppings:
Grated Chocolate
Mini Eggs
Berries
Mini Marshmallows
Leftover Easter Chocolate
Method
Crumble the digestive biscuits into crumbs and split between the 2 chocolate egg halves.
Place the cream cheese, icing sugar and vanilla extract into a bowl and beat with an electric mixer until smooth.
Add in the double cream and beat until smooth and thickened.
Top the digestive biscuits in the chocolate eggs with the cheesecake filling.
Decorate with toppings listed above and chill in the fridge until ready to serve.