A delicious and indulgent steak recipe.
Dijon Steak Sauté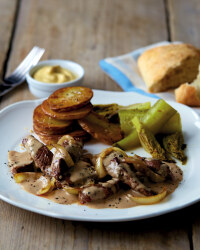 Recipe Information
Ingredients
4 10oz Rump Steaks
2 Onions
2 Baking Potatoes
1 Beef Stock Cube
80ml water
3g Black Peppercorns – cracked
200ml Double Cream
40g Salted Butter
1 heaped tsp Dijon Mustard
35ml Brandy
15 ml fresh Lemon Juice
1 pack Little Gem Lettuce
1 Cucumber
1 Vegetable Stock Cube
200ml boiling water
Sea Salt and White Pepper
Sunflower Oil
Method
Preheat the oven to 180˚C/350˚F/Gas Mark 4.
Peel the cucumber, cut in half, then cut into halves lengthways. Remove the seeds with a teaspoon. Trim the lettuce, and cut into quarters lengthways.
Dissolve the vegetable stock cube in 200ml boiling water.
Put the lettuce wedges and cucumbers in a baking dish, pour over the vegetable stock then season with some white pepper. Cover tightly with foil and bake in the oven for 40 minutes.
Meanwhile slice the potatoes into 1cm thick slices.
Cook in some boiling salted water for 5 minutes then drain well.
In a large frying pan sauté the potato slices in some sunflower oil until golden and crisp, do them in batches and keep them warm in the oven once cooked, don't crowd the pan.
Slice the rump steaks into strips. Peel, halve and thinly slice the onion.
In a large frying pan or wok, sauté the steak and onion strips with the butter until browned. Dissolve the beef stock cube in the 80 ml water and add to the pan with the cream, Dijon mustard, black pepper and lemon juice. Cook for a few minutes.
Drain the stock from the lettuce and cucumber and serve the vegetables with the sautéed potatoes and the steak.