Total cost:
Less than €10
Prunes, stuffed with an almond, with onion chutney, wrapped with pancetta.
Chef's Tip
Prepare these a day or so ahead – ready to pop in the oven
Devils on Horseback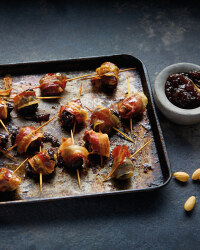 Recipe Information
Ingredients
24 Soft Prunes
24 Blanched Almonds
160g Pancetta
60g Red Onion Chutney
Method
Make a slit in the side of the prunes and push in an almond.
Put the chutney into a bowl and roll the prunes in it.
Wrap each prune with a slice of pancetta.
Put them on a baking sheet and roast for about 7 minutes.
Serve warm.