Enjoy this healthy dinner recipe taken from RTE's Operation Transformation.
Curried Chickpea & Sweet Potato Burger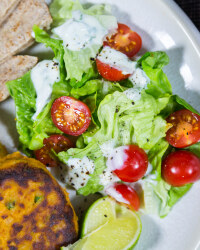 Recipe Information
Ingredients
250g Sweet Potato
15g Fresh Coriander
5g Fresh Mint Leaves
50g Green Beans
2 Scallions
400g Tin Chickpeas (240g drained)
½ tbsp Mild or Medium Curry Paste (7g)
1 Egg
25g Plain Flour
1 tbsp Rapeseed Oil (15g)
1 Oval Wholemeal Pitta Bread
50g Little Gem Lettuce
100g Cherry Tomatoes
5 tbsp Natural Yoghurt (3% Fat – 75g)
1 Lime
Sea Salt
Black Pepper
Method
Steam sweet potato for approximately 40-45 minutes until tender
Place chickpeas in a bowl and mash
Once cooked, place sweet potato in bowl along with curry paste and mash together
Add the chopped green beans and spring onion to the sweet potato mix
Add the mashed chickpeas to the sweet potato mix along with the coriander, egg and flour
Split the mixture into two segments and shape into burgers
In a non stick frying pan heat the olive oil and cook the burgers over a medium to high heat
Cook on each side for 5-6 minutes or until browned lightly and cooked through
Mix the natural yogurt with chopped mint in a bowl
Serve the burger with a side salad of lettuce, cherry tomatoes and mint yogurt
The burgers can be made up to 3 days in advance and kept covered with clingfilm on a plate until ready to cook. Leftover portions of this recipe can be put in the fridge within 2 hours of cooking and can be stored in an airtight container for up to 3 days. Only reheat the burger once in the microwave when ready to eat or serve cold. If transporting bring cutlery with you.