Crumbed Halloumi and Grapefruit Salad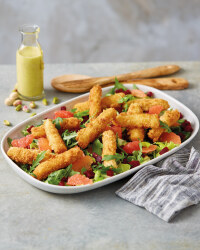 Recipe Information
Ingredients
225g Halloumi
3 Grapefruit
200g Cooked Beetroot
3 Celery Sticks
½ Cucumber
120g Rocket
20g Shelled Pistachios
15ml White Wine Vinegar
50ml Olive Oil
¼ tsp Dijon Mustard
35g Plain Flour
2 Medium Eggs
4 Slices White Bread
Sea Salt and Black Pepper
Method
Make some breadcrumbs with the bread slices. You can do this using a food processor. Then place into a bowl.
Drain the halloumi and cut into sticks.
Beat the eggs, adding a little salt.
Place the flour into a bowl and dip the halloumi sticks into the flour, then the egg wash and then the breadcrumbs and put in the fridge to chill for 20 minutes.
Meanwhile, to make the salad, first peel the grapefruit and cut into thin slices. Then peel the cucumber, cut into quarters lengthways and thinly slice. Wipe the celery and slice thinly. Dice the beetroot and grind or finely chop the pistachios.
To make the dressing, mix the olive oil, white wine vinegar and mustard – season with a little salt and black pepper.
Assemble the rocket and salad ingredients over 4 plates.
Heat some oil to 180°C and deep fry the halloumi in batches for about 2 minutes until golden brown.
Place on top of the salads, drizzle with some dressing and serve.