A classic Stir-Fried Noodle dish with a vegetarian twist.
Crispy Tofu with Stir-Fried Noodles & Pak Choi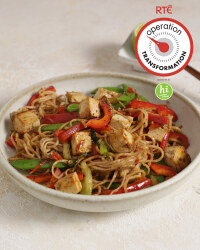 Recipe Information
Ingredients
100g dried Wholewheat Noodles
200g firm Tofu
2 x Scallions
150g Sugar Snap Peas
1 mild Red Chilli
1 Garlic Clove
2cm piece fresh root Ginger
1 Red Pepper
100g Pak Choi
1 tbsp Rapeseed oil (15g)
1 tsp toasted Sesame oil (5g)
2 x tsp reduced sodium Soy Sauce (10g)
Juice of ½ Lime
Method
Place the noodles in a pan and cover with boiling water.
Cook for 4 minutes or according to packet instructions, then drain and rinse under cold running water.
Drain and dry the tofu out well with kitchen paper and then cut into cubes and put in a bowl.
Trim and finely chop the scallions. Cut the sugar snap peas in half.
Cut the red chilli in half, then remove the seeds and thinly slice.
Peel and finely grate the garlic and ginger.
Remove the seeds from the red pepper and cut into thin slices. Cut the pak choi into slices.
Heat a wok or large frying pan over a high heat. Add the rapeseed with the sesame oil, swirling it up the sides.
Add the scallions, chilli, garlic and ginger and stir-fry for 1 minute. Add the tofu and stir-fry for 2-3 minutes until sealed and crisp.
Add all the vegetables to the tofu mixture and stir-fry for another 1-2 minutes, then add the cooked noodles.
Toss well, then add the soy sauce and lime juice and mix until well combined and everything is sizzling.
Divide the crispy tofu and stir-fried noodles with pak choi between bowls to serve.