These crunchy Mexican wraps will liven up any Summer dinnertime!
Crispy Nacho Wraps with Guacamole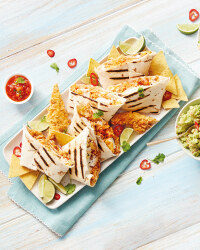 Recipe Information
Ingredients
Crispy Nacho Chicken
600g Chicken Breasts
200g Tortilla Chips
100g Grated Cheddar
50g Plain Flour
1 Egg (beaten)
Guacamole from Tex Mex Selection
To serve:
6 Wraps
Shredded Iceberg Lettuce
Salsa
Jalapenos
Grated Cheddar
Sour Cream
Method
Preheat the oven to 190C/fan 170C/gas 5.
Crush the tortilla chips into crumbs and mix with the cheddar.
Coat the chicken by coating the chicken in the flour, followed by the egg and then the tortilla chips.
Sprinkle any remaining cheese and tortilla chips over the coated chicken and bake for 20 minutes or until the chicken is cooked through.
While the chicken is cooking make the guacamole by spooning the avocado into a bowl and use a fork to mash into a chunky paste.
Add the chopped tomato, red onion, chili, lime juice, salt and pepper into the avocado and mix.
To serve, place a couple of the chicken strips in the middle of each wrap and top with the lettuce, guacamole, salsa, jalapenos and top with a sprinkle of grated cheddar.
Fold the edges of the wrap over the filling toward the centre to make a hexagon shaped wrap.
Heat a large frying pan and cook the wraps for a minute on each side until crisp.
Serve with sour cream.