These crispy chicken strips are a perfect snack, or light lunch. Served with a delightful mango chutney dip.
Crispy Chicken Strips with Crudities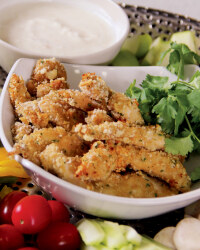 Recipe Information
Ingredients
For the chicken strips:
600g chicken breasts cut into strips
Half a packet of fresh breadcrumbs
2 tbsp olive oil
2 tbsp soy sauce
1 tbsp fresh coriander and parsley, finely chopped
For the crudities:
200g baby plum tomatoes, whole
250g button mushrooms, whole
150g celery cut into strips
1 green and 1 yellow pepper, sliced thickly
300g apples, quartered
For the mango dip:
200ml low fat natural yogurt
1 tbsp mango chutney
Method
Place the chicken in a bowl along with the soy sauce, olive oil and chopped herbs.
Mix well to coat the chicken evenly.
Cover and place in the fridge overnight to marinate.
Pre-heat oven to 200°C.
Remove the marinated chicken from the fridge.
Add breadcrumbs and mix well until the chicken is evenly coated.
Arrange the chicken on an oven tray lined with baking parchment.
Place in your pre-heated oven and roast for 15 minutes, or until the chicken is fully cooked, depending on how thickly you have cut the strips.
To make the dip, add the mango chutney to the natural yogurt and stir well.
Serve