Enjoy this healthy dinner recipe taken from RTE's Operation Transformation
Creamy Prawn and Courgette Pasta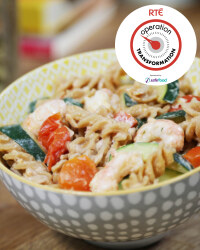 Recipe Information
Ingredients
100g wholewheat fusilli pasta
½ tbsp rapeseed oil (7g)
1 garlic clove
1 large courgette
300g raw peeled tiger prawns
400g small cherry tomatoes
handful fresh basil leaves (5g)
4 tbsp light cream cheese
sea salt and freshly ground black pepper
Method
Cook the fusilli in a saucepan of boiling water with a pinch of salt, if using for 10-12 minutes or according to packet instructions.
Peel and grate the garlic on the fine side of a box grater. Trim the courgette and cut into small dice. Cut the cherry tomatoes in half or into quarters depending on their size.
Heat a large frying pan or wok over a medium heat. Add the oil and swirl it up the sides. Tip in the garlic and stir-fry for 10 seconds, being careful not to let it brown too much. Tip in the courgettes and season with a little salt, if using and pepper to taste. Cook for another 6-8 minutes until the courgettes are completely tender and just starting to caramelise, stirring regularly with a wooden spoon.
Scatter the prawns into the pan and toss until evenly coated, then cook for a minute or two until they turn pink. Add the cherry tomatoes and tear in most of the basil and continue to toss until evenly combined and everything is piping hot but the tomatoes are still holding their shape and the prawns are cooked through. Remove from the heat.
Drain the pasta and return to the pan, then gently fold in the light cream cheese followed by the prawn and courgette mixture.
Divide the creamy prawn and courgette pasta between wide rimmed bowls and garnish with a few extra torn basil leaves to serve.
Once everything is prepared the ingredients can be kept covered individually in the fridge for up to 1 day until you are ready to cook but the freshness and vibrancy of colour will be lost if you cook it in advance.