Enjoy this healthy dinner recipe taken from RTE's Operation Transformation
Creamy Mushroom Pasta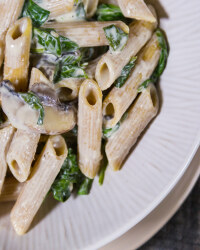 Recipe Information
Ingredients
120g wholewheat fusilli or penne pasta
1 tbsp rapeseed oil (15g)
1 garlic clove
200g mushrooms (chestnut or ordinary)
½ vegetable reduced salt stock cube
225ml boiling water
good pinch of dried oregano
½ lemon
125g light cream cheese
125g tender young spinach leaves
sea salt and freshly ground black pepper
Method
Cook the fusilli or penne in a saucepan of boiling water with a pinch of salt, if using for 10-12 minutes or according to packet instructions.
Peel the garlic and use a garlic press or grate on the fine side of a box grater. Trim the mushrooms and using a small sharp knife cut into slices.
Heat a frying pan or wok over a medium heat. Add the oil and swirl it up the sides. Tip in the garlic and stir-fry for 10 seconds, being careful not to let it brown too much. Tip in the mushrooms and season with a little salt, if using and pepper to taste. Cook for another 3-4 minutes until the mushrooms are tender, stirring regularly with a wooden spoon.
Dissolve the stock cube in the boiling water and stir into the pan. Allow to bubble down, then sprinkle over the oregano and add a good squeeze of lemon juice, about half a tablespoon is about right. Bring to a simmer and cook for 6-8 minutes until the liquid has reduced by half. Stir in the light cream cheese and then add the spinach, fistfuls at a time until it is all wilted. Cook for another minute until piping hot.
Drain the pasta and return to the pan, then gently fold in the creamy mushroom and spinach mixture. Divide between wide rimmed bowls and garnish with a little more freshly ground black pepper to serve.