Pack an extra festive punch on the big day by coating your turkey in this fruity Cranberry butter.
Cranberry Butter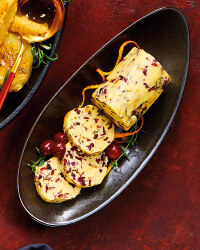 Recipe Information
Ingredients
50g Dried Cranberries, chopped
4g Fresh Rosemary, finely chopped
1 Garlic Clove
Grated Rind of 2 Clementines
200g Salted Butter at room temperature
Black Pepper
Method
Peel and mince the garlic.
Put all the ingredients into a bowl, season with some black pepper and mix well.
Roll out into a thick sausage shape and wrap in baking paper.
Refrigerate for a few hours.
Cut into rounds as needed.
Please check all our products on the online guide provided here. Read all labels in case manufacturing processes have changed.