Cranberry and Sausage Stuffing
Cranberry and Sausage Stuffing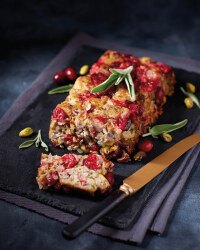 Recipe Information
Ingredients
1 Onion, finely chopped
25g Greenvale Butter
2 slices Specially Selected Multigrain Bread, made into breadcrumbs
3 Specially Selected Lincolnshire Pork Sausages
1 Apple, peeled and grated
150g Cranberries
50g Pistachios, shelled
4 Fresh Sage Leaves
Method
Pre-heat oven to 200oC/180oC Fan/Gas Mark 6.
Lightly grease and line a 2lbs loaf tin.
Sauté the onion in the butter until softened but not browned. Add the breadcrumbs and mix well. Set aside to cool. Use a small sharp knife to cut down the length of each sausage and remove the skin. Mix the sausage meat into the cooled breadcrumbs along with the apple, cranberries, pistachios and sage. Mix well and put into the loaf tin. Bake for 30-40 minutes, turn out of the tin and slice to serve.