Fill crusty white bread rolls with a sweet cranberry and walnut filling. Delish.
Cranberry & Walnut Bread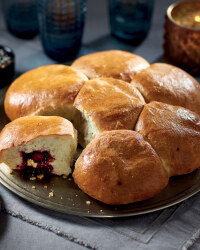 Recipe Information
Ingredients
500g Crusty White Bread Mix
14 x Walnut Halves
70g Cranberry Sauce
Method
Make the bread mix as per instructions on the pack – until you get to the step where you shape the dough.
Divide the mixture into 7 pieces – about 130g each.
Roll into balls then flatten out into discs.
Put 10g cranberry sauce into the centre along with two crumbled walnut halves, fold the dough around the filling and roll into balls again.
Place the balls close together in a greased baking tray.
Then follow the pack instructions again – cover with a damp cloth in a warm place and allow them to double in size for about 30-40 minutes.
Bake for about 25 minutes – until golden (when tapped on the back the bread should sound hollow).