Courgetti with Pesto and Prawns
Courgetti with Pesto and Prawns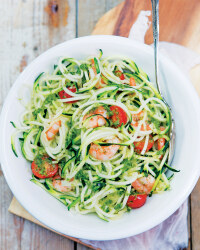 Recipe Information
Ingredients
260g Prawns (2 packets)
4 Courgettes
3 handfuls of Basil Leaves, chopped
25g Pine Nuts
25g Parmesan Cheese
1 tsp Lemon Juice
1 clove Garlic
1 tbsp Olive Oil
A pinch of Sea Salt and Pepper
Method
To make your pesto – place all the ingredients (except the courgette and prawns) in a food processor and whizz until smooth. Season to taste.
To prepare your courgette – using a peeler (or spiralizer) slice the courgette into thin, spaghetti-like strips. Place in a large bowl. Cover with boiling water for 2-3 minutes, until tender.
While your courgetti is softening, fry the prawns until pink and cooked through. Add in the pesto, stir through the courgetti and serve immediately. Enjoy!