A delicious and simple recipe for a healthy and filling meal.
Courgette Frittata & Pepper Couscous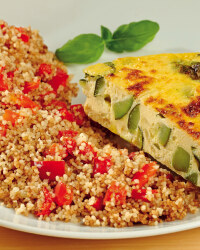 Recipe Information
Ingredients
500g courgettes, diced
1 medium onion, thinly sliced
6 eggs
2 large red peppers, finely diced
30g grated Parmesan cheese
200g Couscous
10 basil leaves
1tbsp balsamic vinegar
½tsp salt Freshly ground black pepper
2tbsp olive oil
Method
Pre-heat your oven to 200ºC.
Place the peppers on an oven tray lined with greaseproof baking paper.
Place them in the oven for approx 30 minutes until slightly brown and crispy.
While the peppers are baking, place your oil in a large hot non stick frying pan.
Fry the thin cut onion and courgettes and sprinkle with black pepper.
Cover, reduce heat and cook until soft.
Allow the courgette mixture to cool a little.
Whisk the eggs in a large bowl then add the courgette and onion mixture and mix.
Add the grated parmesan cheese and mix, then add the basil leaves and fold into the mixture.
Line a round cake tin with greaseproof paper that you have first wet and squeezed dry.
Pour the frittata mixture into the lined cake tin and place in the oven for 15 minutes.
While the frittata cooks, place the couscous grains on a shallow dish and just cover with boiling water.
Place cling film over the dish to keep heat in.
After 10 minutes remove the cling film and fluff the couscous with a fork.
Add the balsamic vinegar and cooked red peppers and mix.
Serve with the courgette frittata.