Courgette Face Dinner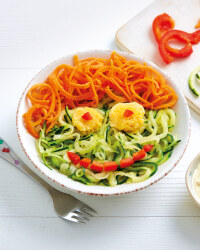 Recipe Information
Ingredients
250g pack Spiralised Courgette
250g pack Spiralised Carrot
8 Button Mushrooms
Slice of Red Pepper
1 Medium Egg
150ml Crème Frâiche
20g Butter
10ml Lemon Juice
Method
Sauté chopped mushrooms in butter until just browning.
Add crème frâiche and lemon juice and heat through.
Make two faces using finely chopped, spiralised courgette for the face, and chopped, spiralised carrots for the hair.
Add mushroom bits for a nose, boiled egg quarters for the eyes and red pepper for the mouth.
Serve with mushroom sauce.