Looking for a way to spice up your starters? This is the perfect recipe for happy guests.
Cocktail Sausages & Apple Canapés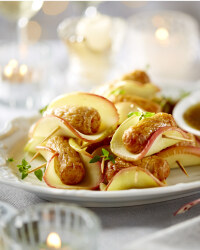 Recipe Information
Ingredients
1 Packet Cocktail sausages
3 Cox Apples
2 tbsp Grandessa Honey
1 tbsp Bramwells Wholegrain Mustard
2 tbsp Olive Oil
1 tsp Salt
1 tsp Pepper
1 tsp Bramwells Apple Sauce
Method
Preheat oven to 200°C/Fan 180°C/Gas mark 6.
Slice the apples about the same thickness as a 10p coin (discard the first and last slice as they are mainly skin and any apple slices containing core – you will get about 6 slices from each apple).
Place the apple slices on a baking tray and bake for 5 minutes until the slices have softened.
Place a cocktail sausage on top of each apple slice and wrap the apple slice around the sausage and secure with a cocktail stick.
Put back in the oven for another 10-15 minutes until the sausage are golden and the apple had started to crisp.
While the apples are cooking the honey mustard dipping sauce can be made by combining the honey, oil, wholegrain mustard, apple sauce, salt and pepper until well combined.
Serve the apple and sausage canapés with the dipping sauce.