Chef Claire shares her delicious Vegan Casserole recipe.
Claire's Spicy Tomato & Vegetable Casserole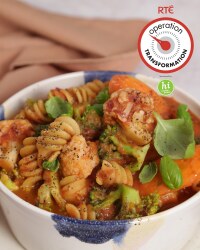 Recipe Information
Ingredients
1 small head Broccoli
1 small Cauliflower
1 carrot
100g Wholewheat Fusilli or Penne Pasta
400g tin Kidney Beans
2 x 400g Chopped Tomatoes
1 Reduced Sodium Vegetable Stock Cube
200ml Water
1 tsp Chilli Powder (optional)
4 x fresh Basil Leaves
Salt (optional) and freshly ground Black Pepper
Method
Cut or break the broccoli into small florets, trimming them down as necessary so that they are the same size – you'll need 200g in total.
Do the same with the cauliflower - you'll need 200g in total.
Peel the carrot and cut into slices on the diagonal – you'll need 100g in total.
Place the pasta in a pan of boiling water with a pinch of salt (optional) and cook for 10-12 minutes or according to instructions on the packet.
Drain the kidney beans and rinse well in a sieve under cold running water.
Place the tomatoes in a large pan and crumble in the stock cube and add the chilli powder.
Bring to a simmer, then reduce the heat and simmer for 2-3 minutes to allow the flavours to combine.
Remove the tomato mixture from the heat and blend until smooth with a hand blender (or use a potato masher if you don't have one which will work but give a chunkier result).
Add the kidney beans and blend again until smooth.
Return the tomato mixture to a low heat and stir in the steamed vegetables and drained pasta.
Give everything a good stir and season lightly with salt (optional) and freshly ground black pepper.
Cook for a minute or so until everything is piping hot.
Ladle the tomato and vegetable stew into bowls and tear over the basil leaves to serve.