Tasty chilli layered with rice, tortilla chips, avocado and topped with melted cheese. Delicious!
Chilli Bowls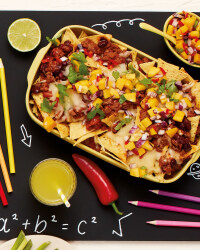 Recipe Information
Ingredients
400g Lean Steak Mince
1 x Red Onion
2 x Cloves Garlic
1 x Green Chilli – approx. 20g
2 x tsp Paprika
1 x Red Pepper
1 x Beef Stock Pot
200ml Boiling Water
1 x 400g Chopped Tinned Tomatoes
1 x 400g Red Kidney Beans
Sea Salt and Black Pepper
40ml Sunflower Oil
To Serve -
2 x Avocado
2 x 250g sachets Mexican Rice
100g Grated Cheddar or Mozzarella Cheese
1 x pack Tortilla Chips
Method
Peel the red onion and dice.
Peel the garlic and mince.
Heat the oil in a large saucepan and saute the onion and garlic on a low light for 5 mins.
Finely chop the chilli – keep the seeds if you want a hotter chilli.
Add to the pan along with the minced steak and cook until the meat is browned.
Chop the pepper into small chunks, discard any seeds or white pith – and add to the chilli.
Add the chopped tomatoes, stock, boiling water, paprika and season with some salt and pepper.
Bring to the boil, cover and simmer for 30 mins.
Drain the red kidney beans and add to the chilli – cook another 10 mins to heat through.
Cook the rice as directions on the pack.
Halve the avocados, remove the stones, scoop out the flesh and slice.
Serve the chilli in bowls with the rice, some tortilla chips, sliced avocado and some grated cheese on top.