The perfect tea for after work with only 5 minutes prep time.
Chilli Beef Tortilla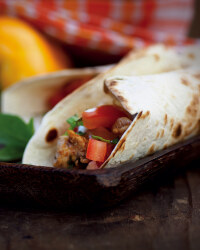 Recipe Information
Ingredients
500g Lean Mince Beef
1 Onion
2 Cloves of Garlic
1 tsp of Cumin
½ tsp of Chilli
1 tbsp Tomato Purée
100g Irish Mature Cheddar
1 tbsp of Crème Fraîche
Vine Tomatoes
Cucumber
8 Tortilla
Method
Fry the lean mince with the onion and garlic until the meat is browned.
Add the cumin, chilli and tomato purée and simmer for 10 minutes.
Serve on a warm tortilla with grated Cheddar, a dollop of crème fraîche and some chopped tomato and cucumber.