Fantastic chilli and lemongrass chicken curry for fake-away nights at home.
Chilli & Lemongrass Chicken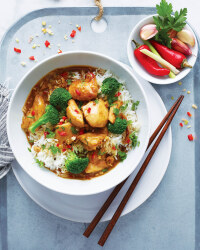 Recipe Information
Ingredients
2 Lemongrass Stalks, finely chopped
1 Small Red Chilli, seeded and finely chopped
2 Garlic Cloves, crushed
1 tbsp Light Soy Sauce
700g Chicken Thigh Meat, cut into chunks
2 tbsp Sunflower Oil
1 large Broccoli, broken into small florets
200ml Chicken Stock (made with ½ Quixo Cube)
2 tbsp Caster Sugar
360g Basmati Rice
2 tbsp Fresh Coriander, chopped, to garnish
Method
Mix together the lemongrass, chilli, garlic and soy sauce.
Add half to the chicken chunks and reserve the rest. Cover the chicken and place in the refrigerator to marinate for around 30 minutes.
Cook the rice as directed on the pack for 10-11 minutes. Meanwhile, heat the oil in a large wok or frying pan and add the reserved marinade.
Cook for a few seconds then add the chicken.
Stir fry for 4-5 minutes until evenly browned, add the broccoli, cooking for a further minute.
Add the stock and sugar and simmer for a few minutes until the stock has reduced and thickened.
Serve with cooked rice, sprinkling with chopped coriander.