A juicy chicken dish packed with delicious flavours and spices – perfect for Mexican night!
Chicken Taquitos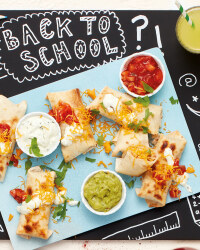 Recipe Information
Ingredients
1 x pack 8 Mini Tortilla Wraps
2 x 180g packs Mexican Cooked Chicken Slices
1 x 200g Soft Cheese with Garlic and Herbs
140g Spicy Cheddar with Chilli
25ml Peri Peri Medium Sauce
To serve
1 x 200g tub Guacamole
1 x 200g tub Tomato Salsa
1 x 200g Sour Cream with Chives
Extra Peri Peri Medium Sauce
50g finely grated Cheddar Cheese
Sunflower Spray
Method
Pre-heat the oven to 200°C/Gas Mark 6.
Finely slice the chicken and put into a mixing bowl.
Grate the cheese and add to the chicken, along with the soft cheese and peri peri sauce – mix well.
Put a dessert spoon (75g) of the chicken in the middle of each of the wraps. Fold in the ends and roll over to make a cigar shape.
Spray a baking sheet with the oil.
Put the taquitos on the tray in a single layer. Spray the tops of them with oil.
Bake in the oven for 20 minutes until crisp and brown.
Serve alongside the guacamole, drizzle them with the salsa and the sour cream, sprinkle over the cheddar cheese and a little extra peri peri sauce.