Chicken skewers accompanied with tangy coconut noodles make for a flavoursome meal.
Chicken Skewers and Coconut Noodles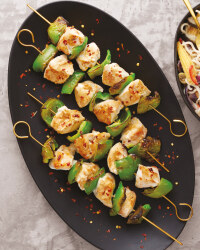 Recipe Information
Ingredients
4 x Fresh Chicken Breasts
1 pack Baby Sweetcorn
1 Aubergine
1 Green Pepper
1 large Red Onion
1 Red Chilli
2 cloves Garlic
10g pieces peeled fresh Ginger
1 pack Ready to Wok Noodles
Juice of 1 Lime
20ml Dark Soy Sauce
1 stalk Lemongrass
1 x 400ml tin Coconut Milk
50ml Rapeseed Oil
4 x Skewers
Method
Peel and halve the red onion and cut into slices.
Cut the aubergine into strips.
Cut the baby corn into halves lengthways.
In a wok, sauté the aubergine, sweetcorn and the onion in the rapeseed oil until lightly coloured, then add the coconut milk.
Peel and mince the garlic.
Remove the first layer of skin from the lemongrass and discard. Thinly slice the rest.
Cut the chilli in half and thinly slice.
Add the garlic, lemongrass and chilli to the wok. Stir in the lime juice and the soy sauce and cook gently for 15 minutes.
Dice the chicken and then cut the pepper into chunks the same size as the chicken pieces.
Divide the chicken and the pepper between the 4 skewers.
Grill the skewers for 15 minutes, turning as you cook.
Put the noodles into the wok and heat through.
Serve the chicken skewers on a bed of the vegetables and noodles.