Handmade Scotch Eggs made with chicken breast, seasoning and fresh breadcrumbs.
Chicken Katsu Scotch Eggs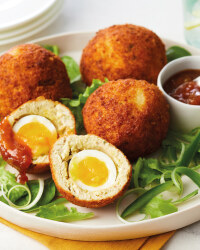 Recipe Information
Ingredients
6 x Large Eggs
500g Chicken Breasts
2 x Spring Onions
15g Fresh Ginger, peeled
2 x Cloves Garlic
2 x heaped tsp Curry Powder
150g fresh Breadcrumbs
70g Plain Flour
Sea Salt and Black Pepper
Vegetable Oil, to fry
Method
Bring a pan of water to the boil. Boil 4 eggs for 7 minutes. Remove and cool under some cold water and then place in some iced water to stop the eggs cooking any more.
Chop the chicken breasts into small pieces.
Wipe, trim and finely chop the spring onions. Finely chop the ginger. Peel and mince the garlic.
Put the chicken, spring onions, ginger, garlic and curry powder into a food processor, season with some salt and pepper and process until minced.
Carefully peel the eggs.
Divide the chicken mixture into 4, then roll each portion into a ball and flatten with the palm of your hand.
Dip each egg into the flour and gently roll. Then put each egg in the middle of the chicken and pull the meat around it to form a ball. Put into the fridge for 15 minutes to set.
Whisk the remaining eggs together in a bowl. Put the rest of the flour in a bowl and the breadcrumbs in another. Dip the eggs into the flour, then the egg and then the breadcrumbs.
Either shallow fry or deep fry them on a medium heat for 15 minutes, turning them gently as you cook.
Serve either hot or cold alongside a salad and some mango chutney.