Chicken and broccoli baked with oregano and garlic, served with bacon and alfredo sauce.
Chicken Alfredo Loaded Broccoli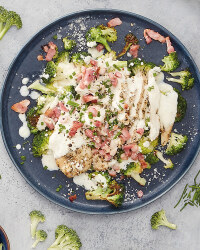 Recipe Information
Ingredients
2 Chicken Breasts
100g Bacon Lardons
1 Broccoli
70ml Single Cream
60ml Milk
60g Parmesan, grated
2 tbsp Olive Oil
1 tsp Dried Oregano
½ tsp Dried Garlic Granules
½ tsp Salt
½ tsp Pepper
Method
Pre-heat the oven to 190°C Fan/Gas Mark 5.
Butterfly the chicken breasts by slicing along one side and flattening.
Cut the broccoli into florets.
Mix together the oil with the oregano, garlic and salt and pepper then drizzle the oil over the tray of chicken and broccoli.
Bake for 20 minutes until the chicken and broccoli are cooked through.
In the meantime, make the alfredo sauce by heating the milk and cream to a simmer then adding the grated parmesan and a pinch of salt and pepper.
Pan fry the bacon lardons in a little oil until crispy.
Serve the roasted broccoli and chicken, topped with the alfredo sauce and crispy bacon pieces, immediately.