Enjoy this healthy dinner recipe taken from RTE's Operation Transformation
Chicken & Leek Traybake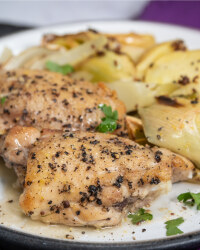 Recipe Information
Ingredients
2 leeks
2 fennel bulbs
250g baby new potatoes
2 garlic cloves
1 tbsp rapeseed oil (15g)
4 skinless chicken thighs (on the bone)
250ml reduced salt chicken stock (made from ½ a cube)
1 tbsp wholegrain mustard (15g)
5g fresh flat-leaf parsley leaves
sea salt and freshly ground black pepper
Method
Preheat the oven to 200C / 400F / gas mark 6. Trim and slice the leeks. Trim the fennel bulbs and cut into thin wedges. Cut the baby potatoes in half. Peel and finely grate the garlic.
Heat a frying pan over a medium to high heat. Season the chicken thighs with a little salt, if using and pepper to taste. Add one teaspoon of the oil and then add the chicken to the pan presentation side down. Cook for about 5 minutes until well sealed all over and lightly browned, turning regularly with tongs. Transfer to a roasting tin.
Scatter the leeks, fennel and potatoes around the chicken. Stir the mustard and garlic into the stock and then pour into the tin. Drizzle over the remaining two teaspoons of oil and season to taste with pepper. Roast for 30-35 minutes or until the chicken is piping hot with no pink meat, the juices run clear and the vegetables are nicely caramelized (all the stock should be evaporated). Cut into the chicken close to the bone to check that is properly done.
Divide the chicken and leek traybake between plates and tear over the parsley leaves to serve.