Who doesn't love a good pasta dish? Try this one with tasty chicken and chorizo. Delish.
Chicken & Chorizo Pasta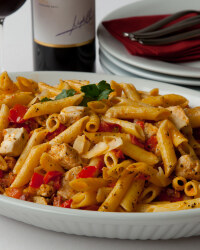 Recipe Information
Ingredients
3 boneless, skinned Chicken fillets
3 tbsp of Olive oil
1 clove of Garlic, crushed
1 tbsp of Salt
400g penne Pasta
170g Chorizo, diced
1 red Pepper, deseeded and diced
4 Tomatoes, quartered
Salt and freshly ground black pepper
1 tsp dried Basil
4 tbsp of Parmesan cheese
Method
Cut the chicken into bite-sized pieces and place in a bowl, pour over the olive oil and stir in the garlic. Leave to marinate while preparing the other ingredients.
Bring a large saucepan of water to the boil, add the salt, and then cook the pasta following the pack instructions.
Meanwhile, sauté the chorizo and red pepper over a medium heat until the peppers start to soften, add the chicken, garlic and oil. Brown lightly.
Stir in the tomatoes and cook for a further 5 minutes until the chicken is cooked and the tomatoes start to break down.
Drain the pasta and add to the sauce with the dried basil.
Serve in a large bowl with the grated Parmesan sprinkled on top.