Mouth-watering chicken Quesadillas served with fresh natural yogurt and a tangy mango chutney.
Chicken & Bean Quesadillas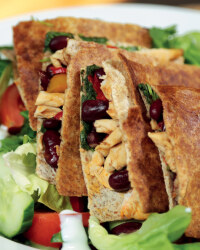 Recipe Information
Ingredients
250g Chicken Breast, cut into 1cm strips
A pinch of Salt
A dash of Hot Sauce (optional)
4 Wholewheat Wraps
1 tbsp Rapeseed Oil – divided for Chicken and Wrap
3 tsp Mango Chutney
4 tbsp Kidney Beans
2 Peppers, deseeded and chopped into 1 cm strips
2 tbsp Natural Yogurt
2 tbsp Fresh Coriander, chopped or 1 tbsp Dried Coriander
1 Head of Lettuce
1 Cucumber
3 Tomatoes
Method
Pre-heat oven to 200°C/400°F/Gas Mark 6.
Heat a large frying pan to medium-high heat.
Place half a tablespoon of oil into the pan.
Add the chicken and sauté until cooked through, approx10 minutes.
Add in peppers, hot sauce and stir fry with the chicken.
Remove from the pan and set aside.
Place half a tablespoon of oil into the pan. Once warm, place a wholewheat wrap into pan. Brown the bottom of the wrap.
Spread mango chutney onto the wrap, followed by chicken, peppers, kidney beans, coriander and a pinch of salt to season.
Top with another wholewheat wrap, remove from pan and set aside.
Repeat with remaining wraps and mixture.
Cover in foil and place all wraps into oven for 5 minutes.
As the quesadilla cooks, wash and chop lettuce, cucumber and tomatoes and put into a serving bowl.
Once cooked, serve the quesadillas with natural yogurt and side salad.