A yummy Korma recipe that is sure to become a firm family favourite.
Chicken & Bean Korma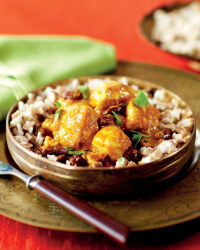 Recipe Information
Ingredients
2 Chicken Breast Fillets - approx 425g
400g tin Red Kidney Beans
500g jar Korma Curry Sauce
250g pack Chestnut Mushrooms
250g pouch Microwavable Basmati Rice
A little Sunflower Oil
Salt and Black Pepper
Method
Cut the chicken breast into bite size pieces.
In a large frying pan or wok, saute them in a little oil until sealed, add the drained red kidney beans and the korma sauce, cook gently for about 10 minutes, until cooked through.
Meanwhile, chop the mushrooms finely, add to a frying pan with a little oil, sauté for about 2-3 minutes.
Microwave the rice for 2 minutes as per instructions on the pack.
Add this cooked rice to the mushrooms and mix well, season with a little salt and black pepper, serve alongside the korma.