Warm lunchbox wraps made with cooked chicken, coleslaw, salad and houmous.
Chicken, Coleslaw and Houmous Wrap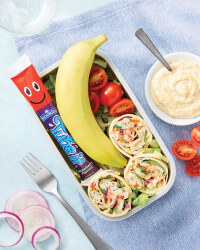 Recipe Information
Ingredients
4 Tortilla Wraps
1 pack Chicken Mini Fillets
1 small Red Onion
¼ Iceberg Lettuce
150g Reduced Fat Coleslaw
150g Reduced Fat Houmous
A little Olive Oil
Black Pepper
Method
Pre-heat the oven to 200°C/400°F/Gas Mark 6
Put the chicken fillets on a baking tray, drizzle over a little oil and sprinkle with black pepper – roast for 10 minutes.
Meanwhile, peel and thinly slice the red onion.
Once cooked – slice the chicken into thinner strips.
Put the wraps in the oven for a minute if you want to eat them warm.
Spread each wrap with a quarter of the houmous, top with lettuce leaves, then the chicken, then top that with some coleslaw and red onion, roll up and slice in half on the diagonal.
Serve warm or cold with tomatoes, yoghurt and a banana.