This chicken, broccoli and butternut squash is the perfect tasty tea, with just 10 minutes prep time.
Chicken, Brocolli & Squash Bake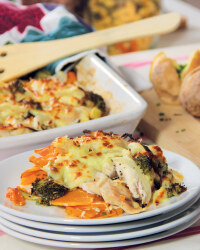 Recipe Information
Ingredients
400g chicken breasts, sliced into strips
1kg butternut squash, peeled and cut in thin slices
2 onions, sliced
400g broccoli florets
250ml chicken stock
50g grated mozzarella
Freshly ground black pepper
4 rooster potatoes, washed
Method
Pre-heat your oven to 180ºC.
Place a layer of the sliced butternut squash in the bottom of a pre-oiled oven dish.
Add the strips of chicken, onions and broccoli florets.
Sprinkle with pepper and pour in the chicken stock.
Cover the dish with tinfoil and place in pre-heated oven at 180ºC for 40 minutes.
Prick the potatoes all over with a sharp knife or fork.
Place the potatoes in the oven with the chicken bake.
After 40 minutes, remove tinfoil from the bake tray and sprinkle with grated mozzarella.
Bake for further 5 minutes and serve with the baked potatoes.