Wow your family and guests with these fancy crème fraiche tarts.
Caviar, Herb & Crème Fraiche Tarts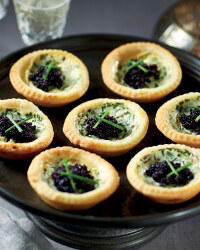 Recipe Information
Ingredients
1 x jar Caviar
1 x 375g Ready Rolled Shortcrust Pastry
20g fresh Chopped Herbs – use a mix of Parsley, Chives and Dill
150ml Reduced Fat Crème Fraîche
1 Large Egg
100g Soft Cheese
Salt and Black Pepper
Method
Pre-heat the oven to 190°C/375°F/Gas Mark 5.
Lightly grease the tin.
Unroll the pastry and cut out 12 circles.
Line each hole in the tin with a pastry circle.
Finely chop the herbs.
Whisk the egg in a medium sized bowl along with the crème fraîche.
Add the soft cheese and chopped herbs, season with salt and pepper and mix well.
Divide this mixture between the tarts and bake in the oven for 10-15 minutes – until just set.
Once cool, sprinkle with the caviar.