Enjoy this healthy dinner recipe taken from RTE's Operation Transformation
Caramelised Onion & Bacon Pasta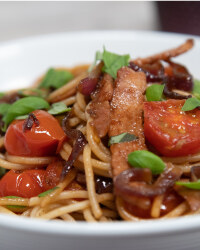 Recipe Information
Ingredients
1 small red onion
1 garlic clove
20 baby plum or cherry tomatoes
2 bacon rashers (well trimmed)
1 tbsp softened butter (15g)
¼ tsp dried chilli flakes
100g wholewheat spaghetti
2 tbsp balsamic vinegar (30g)
2 tbsp rapeseed oil (30g)
small handful of fresh basil leaves
sea salt and freshly ground black pepper
Method
Cut the onion in half, then peel and thinly slice. Peel the garlic and crush the flesh. Cut the tomatoes in half. Snip the bacon into small pieces and put in a bowl.
Melt the butter in a frying pan over a medium heat. Add the onion, chilli flakes and season lightly salt, if using and pepper to taste. Sauté for 6-8 minutes until the onions are golden brown, stirring occasionally. Stir in the garlic and cook for another minute or two until lightly golden.
Bring a large saucepan of water to the boil with a pinch of salt, if using. Add the spaghetti and carefully swirl it around so that it softens and goes into the water. Cook for 10-12 minutes or until tender or according to the packet instructions.
Add the bacon to the onion mixture and sauté for another few minutes until crisp and golden.
Drain the spaghetti into a colander in the sink. Add the tomatoes with the vinegar and oil to the bacon and onion mixture and then toss with the pasta. Divide among wide rimmed bowls and tear over the basil leaves to serve.