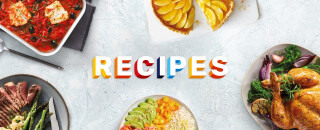 Aldi Spring Recipes
Cook, roast and bake your way through our amazing spring recipe collection! Every dish you find is full of delicious flavours and fresh ingredients to match your tastes. Try our 5-star favourites or go for something new and exciting from our in-season selections. Let's get started!
In-season superstars
Spring is amazing for flavour. Just thinking about all the in-season ingredients and the meals you can make is enough to get your mouth watering. We've put these 4 fun dishes together and made them easy to follow. Give them a try this week.
More spring menu inspiration
We told you there was lots to cook! Here's some extra ideas to keep you having fun in the kitchen this spring. You'll find everything, from fresh starters and colourful salads, to green smoothies and fruity desserts. Enjoy!
Something for the vegans!
If you're a vegan, you can still enjoy amazing dishes filled with exciting ingredients and fun flavours. Here's two delicious ideas you can try this week!