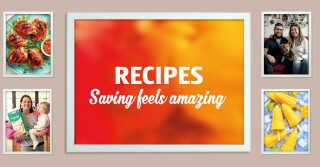 Delicious recipes for summer
Time for a real summertime treat. From sensational summer salads and succulent meat kebabs, to super-healthy Buddha Bowls, fabulous flexitarian feasts and thirst-quenching cocktails, we've got some truly delicious ideas for easy summer recipes. Let the al fresco feast begin.
Make it a truly scrumptious summer
Celebrate the summer with some of our favourite fresh seasonal dishes. Like this delicious Orange, Pomegranate and Mozzarella Salad or some tasty Harissa Prawns. Discover more top summer recipes in our online hub.
Let's make it an amazing summer