These butterfly buns are simple and divine. Topped with tasty strawberry conserve.
Butterfly Buns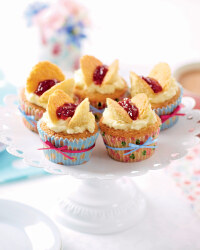 Recipe Information
Ingredients
190g The Pantry Self Raising Flour
190g Caster Sugar
190g Perfect for Cakes Spread
3 Healy's Medium Eggs
125g Unsalted Butter – softened
200g Icing Sugar
1 tbsp Milk
120g Grandessa Irish Strawberry Conserve
Method
Pre-heat the oven to 180°C/350°F/Gas Mark 4.
If you have a food processor add the eggs, spread, caster sugar and flour and pulse until well blended.
If not, beat the spread with the sugar, then beat in the eggs, and whisk in the flour until smooth.
Line a cupcake tin with paper cases, ¾ fill each with some mixture - bake for 18/20 minutes, until risen and firm to the touch, then allow to cool.
Beat the butter, icing sugar and milk together until smooth.
Cut the dome top off the cakes, cutting slightly downwards, to make a well, then cut the top into two wings.
Put a teaspoon of the butter cream icing on the top along with a teaspoon of the strawberry jam, then put the two wings in at an angle.