Hearty and delicious, these pancakes are a wonderfully filling option for mornings.
Brunch Pancakes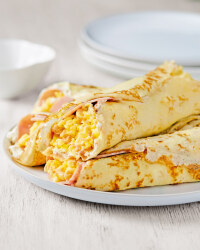 Recipe Information
Ingredients
For the pancakes
100g Plain Flour
2 Large Eggs
300ml Milk
Pinch Salt
10g Fresh Chives, chopped
A little Sunflower Oil
For the filling
6 Large Eggs
40ml Single Cream
Black Pepper and Salt
25g Butter
200g Plain Soft Cheese
8 slices Honey Roast Ham
Method
Pre-heat the oven to 180°C/350°F/Gas Mark 4.
For the pancakes
Put the flour and salt in a mixing bowl.
Break the eggs and beat with the milk in a measuring jug.
Make a well in the flour and slowly add the egg mixture, beating as you do until you have a smooth batter, then add the chopped chives and mix well.
Grease a 25cm frying pan with some oil and make 8 pancakes.
Allow to cool.
Divide the cream cheese between the pancakes, spread over the top, then place a slice of ham on each pancake.
For the filling
Scramble the eggs – crack the eggs in a mixing bowl and lightly beat together with the cream.
Season with some salt and black pepper.
In a medium saucepan add the butter and melt over a low light.
Add the egg mixture and cook the eggs, always stirring with a wooden spoon until cooked and fluffy.
Divide this between the pancakes; place in the middle, gently roll up and put on to a baking tray.
Pop in the oven for 6 minutes to warm the pancakes through, then serve.