Struggling for lunch ideas? Try this brown rice nut loaf, perfect served with a spicy tomato relish and tasty salad.
Brown Rice Nut Loaf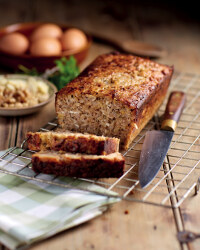 Recipe Information
Ingredients
2 cups chopped Nuts (Cashews, Hazelnuts, Walnuts, Almonds)
2 tbsp Olive Oil
1 Onion, finely chopped
2 cloves Garlic minced
3oz Mushrooms, chopped
1 cup Brown Rice
2 tbsp Parsley, minced
1 tbsp Thyme, minced
1 tsp fresh Sage (or ½ tsp dried Sage)
4 Large Eggs
12oz grated Mature Cheddar
1 cup Cottage Cheese
Pinch of Sea Salt and Cracked Black Pepper
Method
Cook the brown rice according to the package instructions (we combined 1 cup short grain brown rice with 2 cups water, brought to a boil and simmered for 35 minutes).
Pre-heat the oven to 190˚C (375˚F).
In a sauté pan, heat about 2 tablespoons olive oil.
Add the onion and garlic and cook until translucent, about 3 minutes.
Add the mushrooms, chopped thyme and sage. Cook for about 5 minutes, until the mushrooms are golden.
Transfer to a large bowl.
In a small bowl, lightly beat together 4 eggs.
In the large bowl, combine the onion and mushroom mixture with the chopped nuts, parsley, cooked rice, cottage cheese, cheddar cheese, beaten eggs and a pinch of salt and pepper.
Butter a 9 inch loaf tin, line bottom with parchment/greaseproof paper and butter it again.
Pour the mixture from the large bowl into the tin.
Bake for 1 hour until golden brown.
Let cool in tin for 10 minutes, then invert loaf and remove from tin.
Serve warm with our Tomato and Chilli Relish and green salad.