Fun family tater tots made with potato, mozzarella, broccoli and chilli flakes.
Broccoli Tater Tots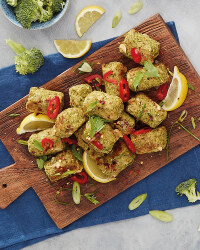 Recipe Information
Ingredients
300g Broccoli Florets
100g Grated Mozzarella
90g Fresh Breadcrumbs
2 Eggs
2 Spring Onions, finely chopped
1 Garlic Clove, grated
½ tsp Chilli Flakes
½ tsp Salt
½ tsp Pepper
2 tbsp Olive Oil
Method
Place the broccoli into a food processor and blitz until there are no chunks.
Place the broccoli and all the additional ingredients, except the olive oil, in a mixing bowl and mix well.
Leave to sit for 10-15 minutes until the breadcrumbs have absorbed the moisture, this will make it easier to form the 'tots'.
In the meantime, pre-heat the oven to 200°C Fan/Gas Mark 7.
Roll the broccoli mix into 18 'tots' and place on a lined baking tray, then brush with the olive oil.
Bake for 15 minutes until golden, then flip over and bake for a further 10 minutes. Serve immediately.