Refilled potato skins with bacon, broccoli, soft cheese and spring onions.
Broccoli Stuffed Jacket Potatoes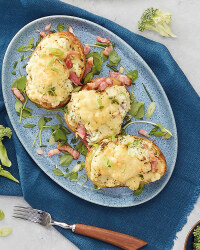 Recipe Information
Ingredients
4 Baking Potatoes
100g Bacon Lardons
180g Leftover Cooked Broccoli, roughly chopped
120g Soft Cheese
75g Cheddar, grated
2 Spring Onions, finely chopped
20g Butter
Pinch of Salt
Pinch of Pepper
Olive Oil
Method
Pre-heat the oven to 180°C Fan/Gas Mark 6.
Wash the potatoes and bake for an hour until crisp on the outside and soft inside.
In the meantime, fry the bacon lardons in a little olive oil for 5-10 minutes until crispy.
When the potatoes are cooked, slice in half and scoop out the middle.
In a mixing bowl, mix together the potato, broccoli, soft cheese, butter, seasoning and spring onions.
Re-fill the potato skins with the potato broccoli mixture then sprinkle over the grated cheddar.
Bake for 20-25 minutes until golden and serve immediately.