12 delicious mac & cheese muffins baked with broccoli until golden.
Broccoli Mac & Cheese Muffins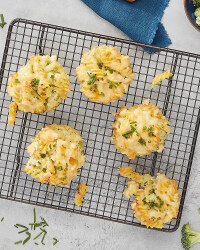 Recipe Information
Ingredients
350ml Milk
200g Fusilli
180g Cooked Broccoli, roughly chopped
150g Cheddar, grated
50g Mozzarella, grated
2 tbsp Butter
2 tbsp Plain Flour
Pinch of Salt and Pepper
12-Hole Cupcake Tin, lightly greased
Method
Add the macaroni to a pan of boiling water and simmer for 8-10 minutes until just cooked.
In the meantime, melt the butter in another saucepan, slowly combining the flour and gently cook together for a couple of minutes.
Gradually add the milk, stirring all the time to avoid lumps forming.
When all of the milk has been incorporated turn off the heat and add 100g of cheddar and all of the mozzarella, then stir until melted.
Add the broccoli, along with the pasta and seasoning.
Pre-heat the oven to 200°C Fan/Gas Mark 7.
Divide the mix between the wells of the tin (they will be quite full) and sprinkle the remaining 50g of cheddar over.
Bake for 15-20 minutes until golden. Allow to cool until firm enough to remove from the tin and serve warm.